Founder of Area Arts Center Kills Wife, Then Wounds Self

September 18, 1963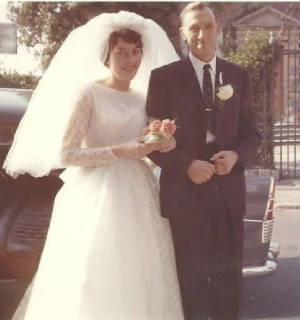 Barbara and Charles Farmer pictured during happier times.
Charles Farmer, head of an industrial designing firm, shot and killed his wife on Wednesday, September 18, 1963 and moments later shot himself in the chest in what was described as a dispute over continued financing of the Berkshire Cultural Center in Middlefield. The killing took place in a bedroom of their 25-room mansion, Merriwold Castle in Highland Park, New Jersey where Mrs. Farmer, an attractive woman of 50, had gone with a lawyer to get clothing and other belongings. The couple had been estranged since July. Mr. Farmer, 61, is in fair condition in a hospital in New Brunswick, New Jersey.
The center, which at present consists of three buildings on a 100 acre wooded site, is almost complete, according to Waylande C. Gregory, a well-known New Jersey sculptor who moved to Middlefield more than a year ago to be director of the art center. According to Mr. Gregory, the Farmers had not gotten along for some time. The big break; Mr. Gregory said came on July 14, after a birthday party for Mrs. Farmer in Middlefield. After the party her husband beat her up and threatened her life.
On August 12, 1963, Mr. Farmer ran a classified ad in the Berkshire Eagle, which stated:
"Please take note that my wife Barbara farmer has without justification left my bed and board, and that I shall not be responsible for any debt obligations or liabilities contracted by her or on her behalf."
The Farmers have a married daughter, who was in the home at the time of the killing, and two young adopted sons. They had sent the sons to summer camp at Cranwell Academy in Lenox, Massachusetts, which was how the Farmers became acquainted with the Berkshires of Western Massachusetts and decided to build the arts center here.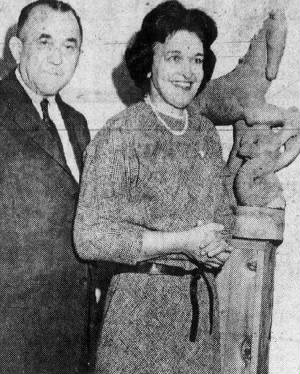 Charles and Barbara Farmer
Mr. Farmer, a native of Hungary, is founder and president of Middlesex Engineers, Inc., a development engineering firm employing more than 100 people. Mrs. Farmer, although born in Hungary, was brought to this country as a small child. She met Mr. Farmer while visiting Hungary. He came to the United States in 1927.
Mrs. Farmer was said to own a 40 percent interest in her husband's enterprises. Interested in the arts, she became acquainted with Mr. Gregory, a nationally known sculptor who had a studio in the Watchung Mountains of New Jersey, and asked him to develop the center in Middlefield.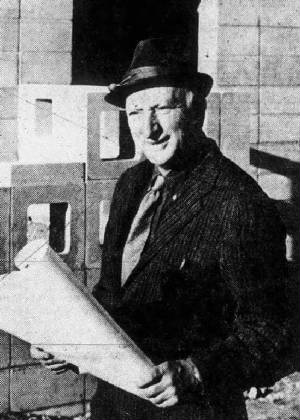 Waylande Gregory, sculptor who designed the center and who was to be its permanent director.
According to Mr. Gregory, something between $150,000 and $200,000 had already been put into the center and other real estate holdings in the area. Work stopped on the almost-completed center in August 1963. However, Mr. Gregory said that it is hoped the project will be completed. He stated, "We were ready to operate and would have started this year already if this hadn't happened."
Mrs. Farmer spent most of her weekends in Middlefield, including last weekend. According to Mr. Gregory, she planned to make her permanent home here. In the meantime, she had been staying with her brother, Leslie Adam Novaky, in Edison, New Jersey.
The Berkshire Eagle
Pittsfield, Massachusetts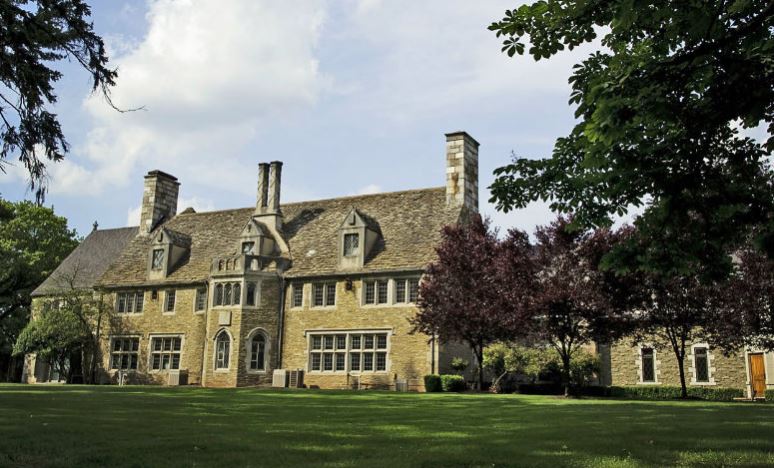 The Murder at Merriwold Castle:
Merriwold Castle was the New Jersey home of the Farmers and the place where Barbara Farmer would be shot to death by her husband Charles Farmer.

The three story Elizabethan-Norman mansion was built by J. Seward Johnson of the Johnson & Johnson family in 1926. Seward built a castle on a magnificent wooded plot above the Raritan River in Highland Park. It was designed by award winning Philadelphia architect Thomas Harlan Ellett. The idyllic setting of some seventeen acres was named Merriwold, meaning "merry wilderness."

The grand home with rampart and dual turrets, consisted of 150 leaded-glass windows, 11 fireplaces, arched passageways, hidden spiral staircases and a swinging bookshelf which concealed a liquor cabinet. The castle was build of lime and sandstone embedded with fossils. Unusual details gracing the exterior included plaster reliefs of sea creatures, such as whales and lobsters. Some 500 tons of stone was imported from Cotswolds, England.

The house was purchased in 1948 by Charles and Barbara Farmer for $35,000, including the original grounds, gate house, guest house, stables, garages and personal flying field.

Barbara Novaky Farmer was born in 1913 to Frank Novaky and Borbála (Barbara) Egri in the Sarkoz region of Hungary. She was a well-known patron of the arts and a reputed eccentric.

Charles Farmer was born Karoly Farkas on July 24, 1902 in the Gava region of Hungary. He was the owner of a Middlesex engineering firm known as the Middlesex Design Company. He used the mansion for his family's living quarters, as well as a portion for a drafting area for his firm. (He tried unsuccessfully to sell it in 1955 for $200,000.)

The Farmers lived there until 1963. Over time Charles and Barbara Farmer grew to despise one another. Charles accused Barbara of having an affair with art-deco sculptor Waylande Gregory. Charles Farmer claimed the two were building an occult center for practicing black magic in Western Massachusetts. In reality, it was to be an artist colony named the Berkshire Cultural Center (and perhaps serve as a "love nest" for both Mr. Gregory and Mrs. Farmer.)

Barbara, petitioned the court to force her husband to leave the residence and pay spousal support. In August 1963, Charles Farmer secured a court order restraining Barbara from entering the home, in which he referred to her as an "open and brazen adulteress". Pinkerton Security Guards were hired specifically to keep Barbara Farmer off the estate. Charles Farmer also attempted to have Barbara Farmer legally declared mentally incompetent.

On September 18, 1963, Barbara made a pre-arranged visit to the mansion in the company of her attorney to collect some of her belongings. Charles entered the master bedroom through a hidden passage and confronted the pair and shot Barbara three times with a pistol. Next he turned the gun on himself. (Farmer had purchased the gun five days prior to the shooting at a local sporting goods store.) Charles lived through his attempted murder-suicide, but alas, his estranged wife was not so fortunate.

After his recovery from his gunshot wound, the Superior Court deemed Charles Farmer unfit and sent him to a state hospital for the criminally insane. After his third trial on a charge of having murdered his wife, Charles Farmer was acquitted in 1967, with the court ruling he had been insane at the time of the killing. Charles Farmer died in New Jersey in October 1975.

The estate and engineering firm were both in the name of Barbara Farmer. Merriwold Castle passed to the estate of the late Mrs. Farmer, and was divided equally among her three children. Five years later in 1968, the Kaplan Company purchased the property for $400,000.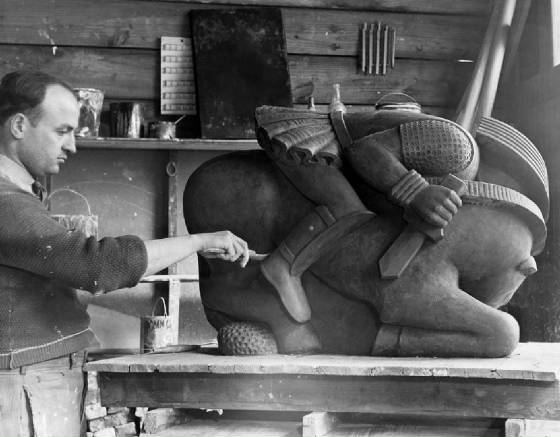 Waylande Gregory; circa 1937
Waylande Gregory
Waylande Gregory (1905-1971) was the prolific and well-known creator of innovative art-deco ceramic sculptures.  His career began as a youth in his home state of Kansas.  He later studied in Europe, with his artistic career reaching its pinnacle in the 1930s. 

Gregory reinforced his larger sculptures using a honeycomb framework to build pieces from the inside out.  This made them self-supporting and prevented sagging and cracking.  He also created his own glazes for each of his projects.

Things were looking up for Gregory in the 1960s, thanks to the patronage of Barbara Farmer.  These prospects came to an abrupt end with the murder of Farmer by her husband, who had accused her of having an adulterous affair with Gregory.

Gregory returned to New Jersey soon after Barbara Farmer's death to resume his work.  It was said that he was never the same after the death of Barbara Farmer.

By the time of his death, Gregory was responsible for creating one of the largest collections of ceramic sculptural work seen in modern times.
Epilogue: The ruins of the bizarre, partially-finished artist colony can still be found off the Keystone Arches Trail along the Westfield River in Middlefield, Massachusetts. It was never completed.
Click to Read the Supreme Court of New Jersey Court Case: State v. Farmer
Frank J. Leskovitz

©1995-2022