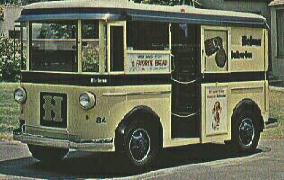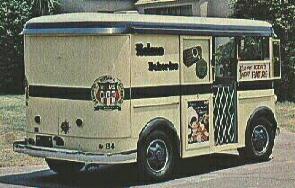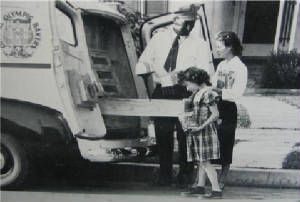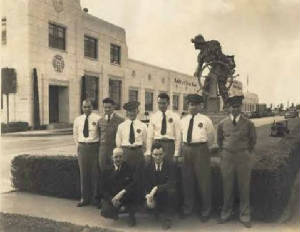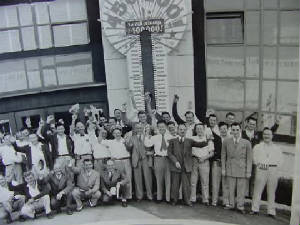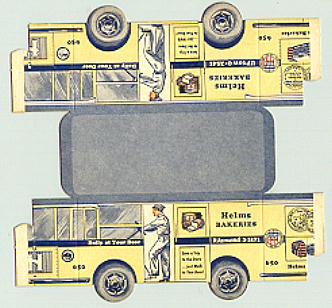 Dedicated to Wally McOuat, Harry Taylor, Peter Lozinsky, Dave Kruger, Robert Hickman, Bob Hegdahl, Larry Barnaby, Ray Farey, Bill Crow, Bob Crow, John Peterson, Roy McDiarmid, Len Kissig, Vern Kissig and Ned Kissig, true Helmsmen.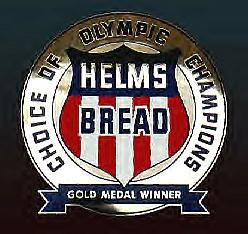 Many of us who grew up in Southern California in the 1950s and 1960s have fond memories of the Helms Bakery. Their unique mustard yellow colored coaches and distinct "toot-toot" whistles would signal that the Helmsman had arrived in your neighborhood. This scene was repeated on a daily basis by a fleet of approximately five hundred coaches all over Southern Californa. "Three times around the world every day" was the Helms Bakery slogan.

Children would race to the Helms coach with an excitement that would make the Good Humor man envious! Their moms would follow to buy fresh Olympic Bread and perhaps a delicious treat for dessert. The appeal to us kids was the long wooden drawers containing endless rows of the most delicious cookies, donuts, brownies, and cupcakes ever created. The goodies were individually arranged in each drawer--lined up like soldiers.

It was so hard to choose! Fortunately, the Helmsman was friendly and helpful, and he even knew most of the neighborhood children by name. The Helmsman wore an official Helms hat, a tie, and a shiny chrome coin changer on his belt. It was such fun to get change! If you were especially lucky, he might give you a cardboard Helms coach.

The bakery itself was based in a landmark art deco building which today houses an eclectic assortment of businesses. It was located at 8800 Venice Boulevard at Helms Avenue in West Los Angeles. From this location, the fleet of Helms vehicles would fan out and deliver their fresh-baked treasures to the sunny neighborhoods they served.

Since it's early years, the Helms Bakery used Divco Twin coaches to deliver their baked goods. The Helms Bakery Divco fleet was one of the largest in the United States. In later years, they supplemented their fleet with Chevrolet panel trucks. It is said that Paul Helms directed that all the bakery delivery vehicles would be called "coaches"--garbage was delivered in "trucks".

The Helms Bakery had a strong sports heritage. Their Olympic Bread commemorated their official sponsorship of the 1932 Olympics, which were held in Los Angeles. In 1936 they founded the Helms Athletic Hall of Fame. This became a model for the many sports halls of fame existing today. Olympic Bread was also said to nourish our Apollo 11 astronauts on their way to the moon!

An example of a Helms coach can be seen at the original factory site in West Los Angeles. Another restored example is in the Petersen Automotive Museum on Wilshire Boulevard in Los Angeles. Unfortunately, no donuts or other goodies are to be found within. The toot-toot whistle is silent.

After 38 years of delivering the very finest in baked goods, the Helmsman stopped coming in 1969. It was the end of an era in Southern California. Sadly, today's children will never feel the excitement of hearing the magical toot-toot whistle of the Helmsman.