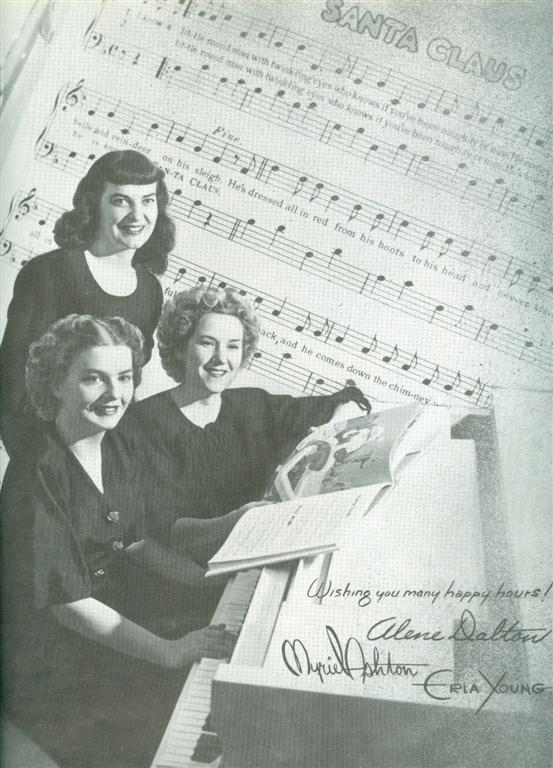 Alene Dalton (1915--1986)
Writer
Alene Dalton was born in Brigham City, Utah. She received a Bachelor Degree in child psychology from the University of Utah. She joined with two friends to create My Picture Book of Songs. She wrote all the verse, for which music was composed. The book was a two year project. A television pioneer, Dalton was known as the Story Princess on KSL-TV in Salt Lake City. She also appeared as Princess Summerfall Winterspring and Heidi Doody on the Howdy Doody Show. She was the author of more than fifty books. The Alene Dalton papers (1950-1987) containing scrapbooks, awards, and art work related to Dalton's tenure as The Story Princess are in the collection of the J. Willard Marriott Library, University of Utah.
Murial Ashton (1903--1999)
Musician
Myriel Ashton was born in London. England. Ashton had a long career in radio, theater, dance, and television from its earliest days. One of Australia's most popular and enduring stars, she was presented Member of the Order of Australia. Ashton studied at the McCune School of Music and Art in Salt Lake City, Utah. She was responsible for composing all the music to accompany the lyrics in My Picture Book of Songs. Ashton played the long-running role of Granny Bishop in the radio serial Blue Hills. In her later years she found frequent work as a character actress. Ashton appeared in numerous television roles, as well as commercials, including those for Sara Lee. "Queenie" Ashton died at age ninety-six, after an eighty year career in the arts.
Erla Young (1917--2004)
Artist
Erla Young was a talented artist and for sixty-three years the wife of Brigham Spencer Young. A graduate of Critchner Art Academy in Washington, D.C., she provided all of the colorful children's artwork for A Picture Book of Songs. Young was born in Logan, Utah and was very proud of her Scandinavian heritage. She excelled at virtually every form of artistic endeavor. She was also a fashion designer, teacher, photographer, and a natural musician. For many years, she taught art and design at Brigham Young University. Her artwork won numerous awards and hangs in museums, corporate offices, and private collections. Young is also known for the children's pioneer tale Betsy Buttons.
Special thanks to Mrs. Claxton, my kindergarten teacher (circa 1964) at Grovecenter School in West Covina, California.
You made this song special.
Frank J. Leskovitz

©1995-2023