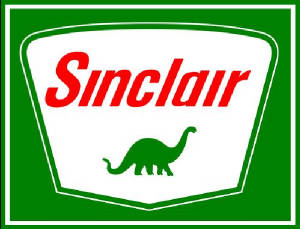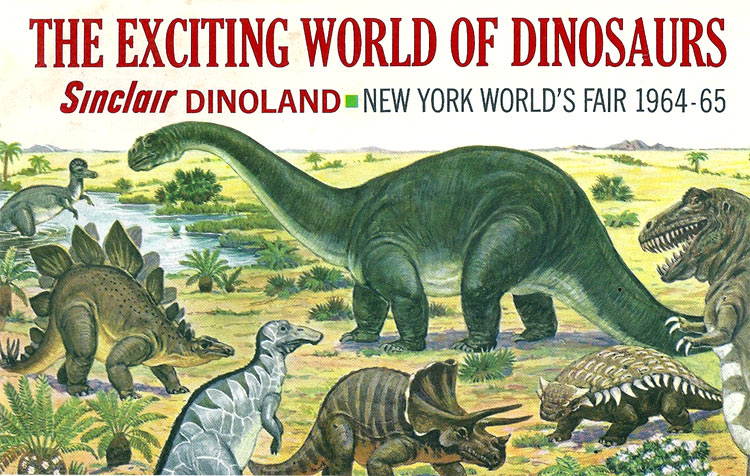 The 1964 World's Fair took place at Flushing Meadows Corona Park in Queens, New York. Many of the exhibits gave the world a space age view on the future. One exhibit however, took spectators far back into the distant past. The Sinclair Oil Corporation sponsored "Dinoland", which featured life-size replicas of nine dinosaurs, including a seventy foot long version of Sinclair Oil Corporation's signature Brontosaurus.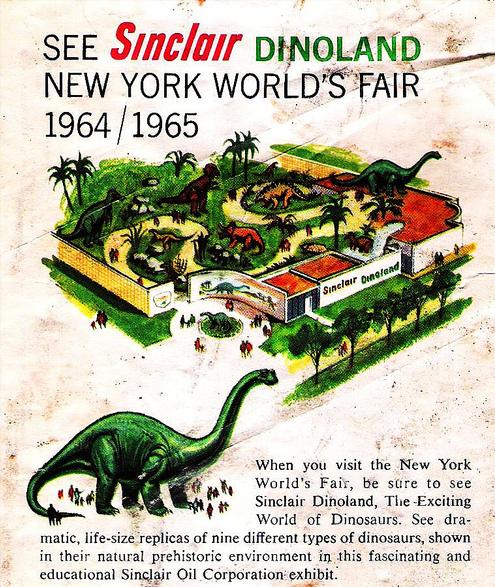 Louis Paul Jonas, a famed exhibit designer was enlisted to accurately design the nine fiberglass dinosaurs to inhabit Dinoland. Jonas (1894-1971) is well known today for the fine museum dioramas he created, such as those at the Yale Peabody Museum of Natural History in New Haven, Connecticut and the Berkshire Museum in Pittsfield, Massachusetts. The dinosaurs for Sinclair Dinoland were created over a two year period at the Jonas Studios located in Hudson, New York. Two were mechanized, the nineteen-foot tall Tyrannosaurus and the magnificent Brontosaurus. Jonas enlisted the help of famed paleontologists Barnum Brown and Edwin Colbert of the American Museum of Natural History and John Ostrom of the Yale Peabody Museum of Natural History to insure the accuracy of his mighty creations.
The life-size dinosaurs represented were:
Tyrannosaurus
Brontosaurus (=Aptosaurus)
Triceratops
Stegosaurus
Ankylosaurus
Corythosaurus
Trachodon
Struthiomimus
Ornitholestes
Dinosaurs on the Hudson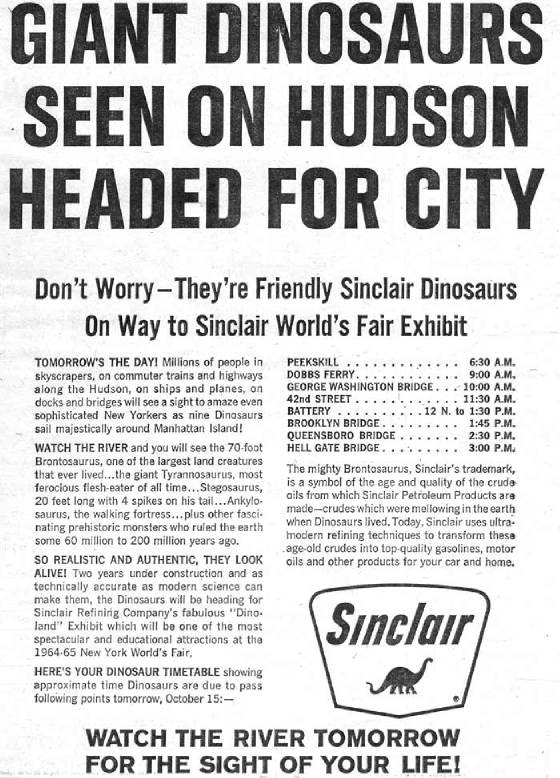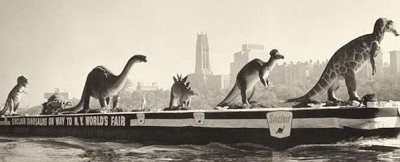 From Jonas Studios, the completed dinosaurs were transported one hundred and twenty-five miles on a barge down the Hudson River and around Manhattan Island to Flushing Bay and to their Dinoland home at the New York's World Fair. They were greeted by thousands of spectators on the shoreline while New York City fire boats sprayed out great streams of water.