United States Secret Service Agent Killed in Pittsfield, Massachusetts
"He was a sturdy character and tremendously capable in performing his duties. My children thought a great deal of him, we all did".
President Theodore Roosevelt
William Craig is the first member of the United States Secret Service to die in the line of duty.

William Craig; 1855--1902
Craig was born in Gladgow, Scotland on November 21, 1855.  The fair-haired, blue-eyed boy grew into an imposing figure standing six foot four inches and weighing some 260 pounds. He joined the famed Royal Horse Guards of the British Army and for a time was tasked with guarding Queen Victoria.  He was also placed in charge of the British Army Gymnasium for eight years.  In his thirties, he immigrated to the United States and settled in the south side of Chicago. He became a well-known physical director in the city.  Craig taught fencing, boxing, self-defense, and physical fitness.  He was know to give public demonstrations of his great strength and athleticism.
Trolley No. 29 and the President's Carriage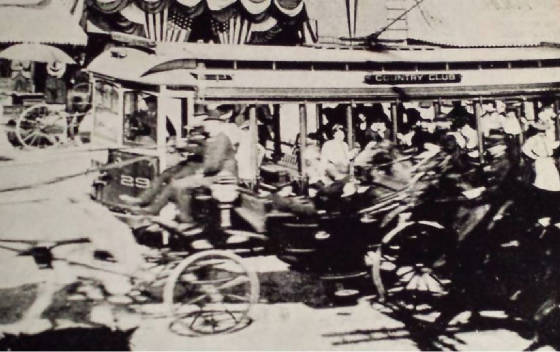 Pittsfield, Massachusetts; September 3, 1902
Craig joined the United States Secret Service in 1900.  Initially, the Secret Service worked primarily to foil and apprehend counterfeiters.  Craig was present when President William McKinley was assassinated on September 6, 1901 by an anarchist while visiting the Pan-American Exposition in Buffalo, New York. Soon after, the United States Congress passed legislation to officially charge the Secret Service with protecting the President.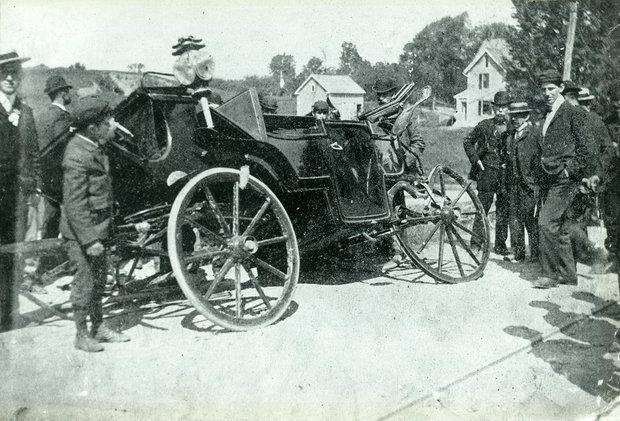 Damaged carriage from the tragedy in Pittsfield Massachusetts
Craig was assigned to protect the new President, Theodore Roosevelt.  Roosevelt fondly referred to Craig as "My Shadow".  Craig became close to Roosevelt, and especially to his children.  He created a protective ring around Roosevelt's Sagamore Hill vacation home to insure the family's safety and privacy.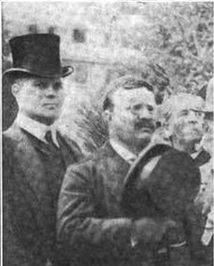 William Craig & President Theodore Roosevelt
On September 3, 1902, Craig was sitting on the front of a carriage which was struck by a speeding trolley car in Pittsfield, Massachusetts.  Riding in the back was President Roosevelt, Massachusetts Governor Winthrop Crane, and the President's aid George Cortelyou.  Craig was thrown from the carriage and crushed by the trolley. Carriage driver David Pratt of Dalton, Massachusetts was seriously injured.  The President received only cuts, bruises and an injury to his leg, despite being thrown some thirty feet from the carriage.  Cortelyou received a cut to the back of the head.  One of the carriage horses was put down due to its severe injuries. Only Governor Crane was unscathed.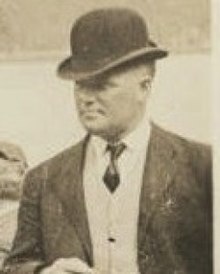 William Craig; 1855--1902
After exchanging tense words with the trolley operator, President Roosevelt knelt beside Craig and exclaimed, "Poor Craig--How my children will feel."  Craig reportedly saw the oncoming Trolley and gave a shout as he attempted to shield Roosevelt. At trial, the driver of Trolley No. 29, Euclid Madden, would plead guilty to manslaughter.  He was fined three hundred dollars and ordered to serve six months in jail.  The crash occurred because the packed trolley was speeding in order to hear the President speak at his next stop.

Craig left his mother, three sisters, four brothers and his fiance , Katherine Murphy.  He was laid to rest in Oak Woods Cemetery in Chicago, Illinois.

Inscription:

First United States Secret Service operative killed in the line of duty while protecting President Theodore Roosevelt in Pittsfield, Massachusetts.

Operative Craig made the ultimate sacrifice in the performance of his protective responsibilities. His heroic actions on that fateful day were in the highest traditions of The United States Secret Service and will never be forgotten.

Dedicated on this third day of September 2002 by his colleagues from the Chicago Field Office in recognition of the one hundredth anniversary of his death.
"The man who was killed was one whom I was fond and whom I greatly prized for his loyalty and his faithfulness"

President Theodore Roosevelt